Marissa is a passionate mortgage broker, property investor, property developer and property investment educator, who loves empowering others to improve their financial position and achieve their financial goals so that they can live the life of their dreams.Marissa practices what she preaches. Starting at just 18 years old, Marissa bought her first investment property. Over the next decade, she achieved financial freedom through building a multi-million-dollar property portfolio with a six-figure passive income and continues to be an active Property Investor and Developer today. She has experienced first-hand, the opportunities, challenges and rewards of buying, building, renovating, subdividing and developing.
Combining her background in accounting, finance and law, together with her mortgage and property investing experience, allows her to identify opportunities to help clients build wealth, save money and more importantly, live the life of their dreams.
Since the inception of Rise High Financial Solutions, year after year the business continues to be recognised as a market leader within the Mortgage and Finance Industry, receiving the most prestigious national and local awards and accolades the industry has to offer.
Marissa Schulze has also been recognised for her dedication to helping others and for her success as a leading Entrepreneur, receiving the 2015 Telstra Business Women's SA Entrepreneur Award. From a young age, Marissa has always had a passion for business and helping others and was awarded the Australian Young Achievement Business Person of the Year Award in 1999, and then in 2007 received the SA Government Innovation Award for developing a program teaching entrepreneurship to indigenous youth.
As a leader in the Australian Finance Industry and a successful property investor in her own right, Marissa is often asked to speak at numerous industry events throughout Australia to educate and empower others to achieve the business and financial success they desire. Her comments and views are regularly featured in leading newspapers, a variety of national finance and property investment publications and websites and she is also highly sought after as the author of feature articles in leading Australian property investment publications.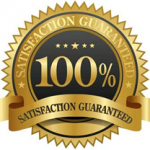 The satisfaction guarantee:
I want to see you move through your property investment journey successfully, and achieve everything you dream of. I am here to help! So, if you have any questions, feel overwhelmed or feel like giving up, please contact me anytime at [email protected].
If after reading this book and completing the bonus resources, you are not 100% satisfied that you have received great value, we will give you a full refund on your book purchase. So you have nothing to lose! Get your copy today and start building the life of your dreams!
Start your Property investment journey now